Adding Online Meeting Info
With recent 'shelter at home' orders, many A.A. meetings have resorted to finding alternate meeting places online. Meeting Guide provides support for presenting online meetings in a variety of ways.
Generally, online meetings fall into three categories:
Meetings with physical location temporarily closed now meeting online
Meetings happening both online and in-person at a physical location (hybrid)
Meetings without a street address but an approximate location (online-only)
Temporarily Closed Meetings
To indication that a meeting location is temporarily closed, mark them with the new Temporary Closure tag. This will provide a clear visual indication in the app by displaying a crossed out address and hiding the directions button. To include online information for these meetings follow the instructions below.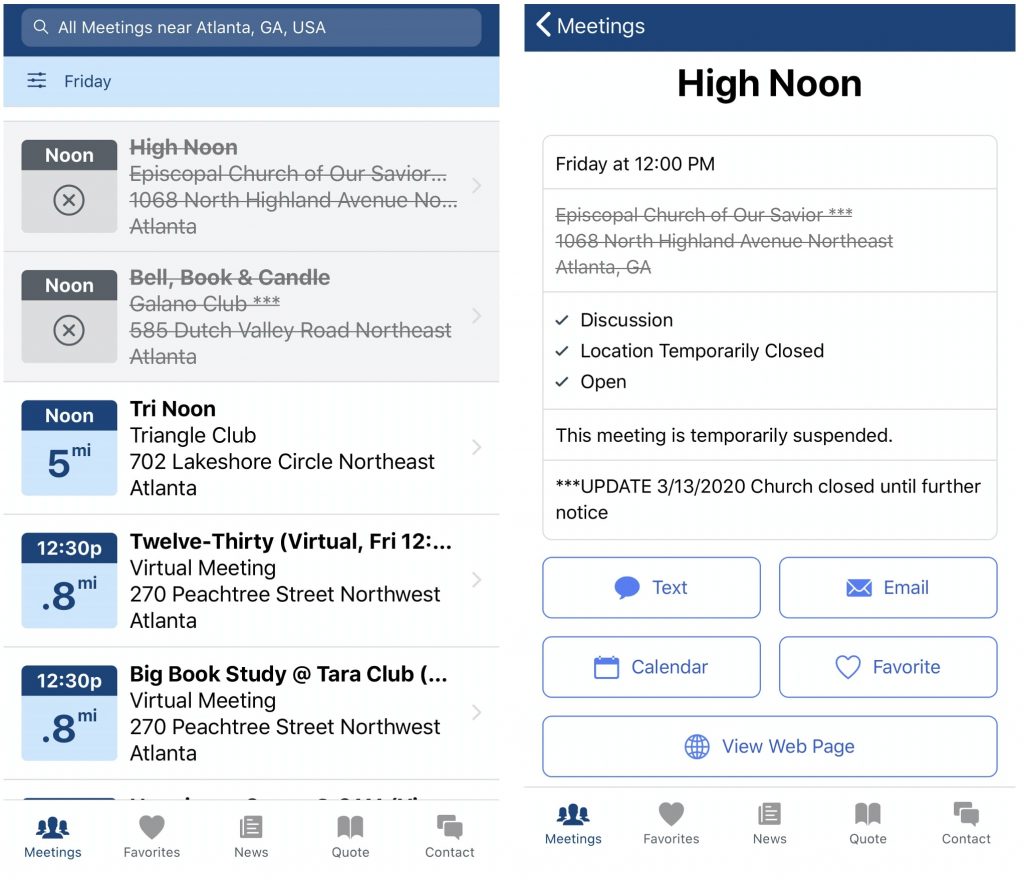 How to Format Online Meetings
To add online meeting information for a meeting follow the instructions below.
WordPress 12 Step Meeting List Plugin
Sites that use the 12 Step Meeting List plugin will have Conference URL and Conference Phone fields available. Information added to these fields now syncs with the Meeting Guide app.
Custom Databases
Sites that use a custom database may add the conference_url and conference_phone keys to their JSON feed. Please see the Meeting Guide JSON spec for more information and examples.
For security reasons, conference URLs are validated and must be one of the following providers: BlueJeans, Free Conference, FreeConferenceCall, Google Hangouts, GoToMeeting, WebEx, Skype, Zoho, and Zoom. Please let us know if another provider should be included.
What Phone Number Format Is Best?
We recommend using +,# characters in your phone numbers to enable a one-tap experience for your users. For Zoom meetings, please include the password.
For example, let's say a Zoom meeting dial-in phone number is (212) 555-1212, the meeting ID is 123456789, and the password is 444444. Our experience suggests that the ideal format is
+12125551212,,123456789#,,#,,444444#
Adding the country code at the beginning (+1 for the US and Canada) is helpful for any international callers. The comma creates a pause for the phone dialer.
Other services, such as WebEx, may be simpler and not require as many numbers to be entered.
+12125551212,,123456789
Some trial and error may be necessary to achieve the right experience for your users.
Some sites may be tempted to put the meeting ID and/or password in the meeting notes field, but experience indicates that this can be a frustrating experience for some users.
Version 3.5.4 of Meeting Guide supports displaying approximate locations for online-only meetings.
Approximate location serves the need of those online meetings that have never been associated with a physical meeting place. Before this feature was added, meetings were required to have a street address. For online meetings that never had a physical address this didn't make sense and often resulted in "fake" addresses being entered in order to submit the online meeting.
How To Add an Approximate Location
If you are using the 12 Step Meeting List plugin, simply enter the city and state into the address field. For a Google Sheet or a custom database, leave the address field blank, but fill out the city, state, and country fields (e.g. Los Angeles, CA, USA). A best practice is to input a centrally-located city associated with the origin of the meeting.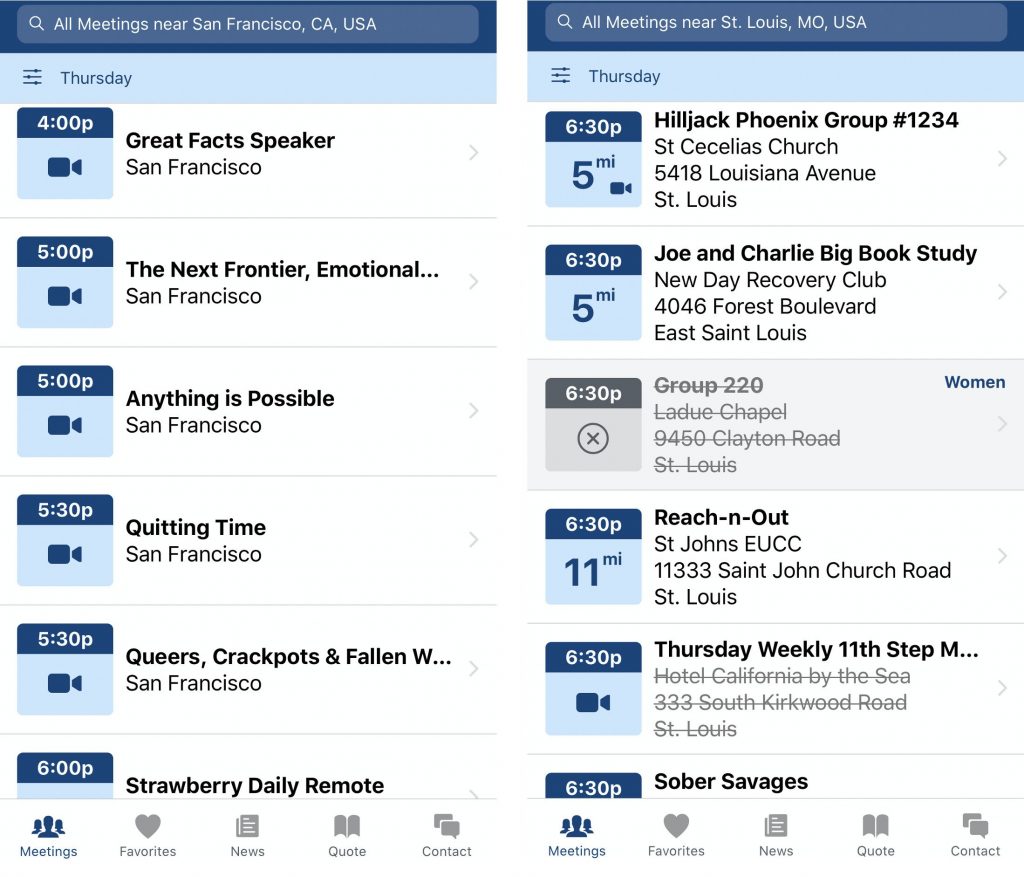 For questions on you can add online meetings, please contact appsupport@aa.org.